ITEMS FOR SALE
tHE ITEMS ON THE OTHER PAGES IN THIS WEB HAVE ALREADY BEEN SOLD, BUT CAN USUALLY BE REPRODUCED . iTEMS ON THIS PAGE ARE AVAILABLE FOR SALE. please EMAIL FOR ANY FURTHER INFORMATION.
cLICK ON SMALL PICTURE TO VIEW LARGER IMAGE. aLL PAINTINGS ARE DONE WITH ACRYLIC PAINT, SEALED WITH PROFESSIONAL, NON-YELLOWING ARTIST'S VARNISH. aLL aRT IS ORIGINAL AND SIGNED AND DATED BY ARTIST.
sHIPPING WITHIN us ONLY.
SUMMER LIGHTHOUSE
$19.95
12 x 16 stretched gallery wrapped canvas; sides painted so ready to hang without frame, acrylic sealed with professional non-yellowing artists varnish.
This is a vibrant landscape of a lighthouse in summer, surrounded by fragrant flowers and lush greenery. You can almost smell the ocean and picture yourself sitting on the rocks listening to the sounds of the water, in utter peace and tranquility.
Shipping is priority mail with confirmation, $12.95.

WHILE KITTY SLEEPS
$14.95
"While Kitty Sleeps" is an 8 x 10 stretched canvas, sides painted ready to hang acrylic painting. Is kitty dreaming about mousies? If so all she has to do is open one green eye and see the grinning little mouse right by her nose.
Shipping is $7.50, priority mail. Usually ships next day.

BLUE ANGEL
39.95
This beautiful angel is painted on a 20 x 24 canvas on hardboard panel.
This beautiful blue angel is full of positive energy, waiting to wrap you and your house in her blue protective light.
Shipping is $14.95.

OLD MISSION
$24.95
20 x 24 canvas on hardboard, this is a landscape of an old mission looking thru a rock archway. You have to walk under the rock archway with it's colorful flowered vines, then you can almost feel yourself walking up the pathway to the old mission, past the fragrant flowers along the path and perhaps feeling a cool breeze that comes from the mountains in the background. Perhaps you can imagine the old bell that is still there ringing as the old parish priests would ring it to call people to worship.
Shipping is priority mail with confirmation, $14.95.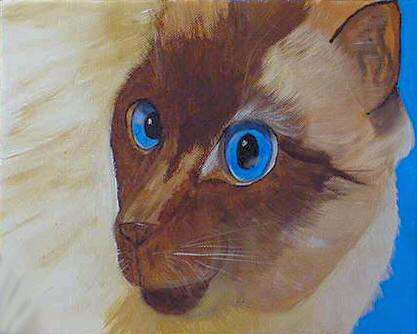 SIAMESE FACE
$14.95
This lovely Sealpoint Siamese boy is painted on an 8 x 10 stretched canvas, sides are painted so it's ready to hang.
Priority shipping $7.50

STAINED GLASS LOOK PARROTS
$24.95

18 x 24 Canvas on hardboard panel. Stained glass look with vibrant glassy look that would look great framed or will hang unframed flat against the wall.
Priority shipping $14.95